Kitchens and colors: These trends are driving office space renovations, workplace designs
Kitchens and colors: These trends are driving office space renovations, workplace designs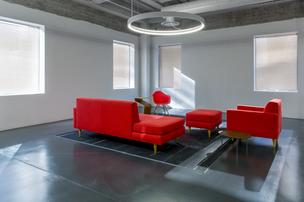 A good number of bosses and managers have long disliked employees congregating around the proverbial water cooler. Those fears often are born from corporate cultures that resist telecommuting and worry about workers grousing about pay and treatment or even organizing.
But times, workplaces and workspaces are changing. And that is showing up in office-space designs, renovations, adaptive-reuse projects and color schemes.
Just ask Ryan Sarbinoff and Kelly O'Dea, brokers at commercial real estate firm Marcus & Millichap. Sarbinoff said he sees more office space — including in his own industry — with break rooms and kitchens in the front of the office.
"That's something that people want," Sarbinoff said.
Tenants and their designers are putting money, fixtures and colors into those areas, which serve not only as collaborative and meeting spaces but also reception areas for those visiting the office.
That's a long way from corner break room with a microwave, office fridge and coffee pot.
It's a trend set not only by big technology and creative companies such as Adobe Systems (Nasdaq: ADBE), Facebook (NYSE: FB), Apple (Nasdaq: AAPL), Snapchat (NYSE: SNAP) and Alphabet (Nasdaq: GOOGL) but it's showing up in Phoenix workspaces at call centers for State Farm and GoDaddy (Nasdaq; GDDY) and even some traditional sectors.
The idea for office space is to not only foster collaboration but create an environment where employees and prospective employees — especially creative, technical and talented ones — want to work.
Cool spaces also show a company is growing and thriving and not being left behind. Just ask Josh Thompson, Niki Ward and Kevin Evernham, designers with Ware Malcomb design and architecture firm in Scottsdale.
They see the desire for creative, open and collaborative spaces evolve beyond tech companies, startups and creative firms such as advertising agencies.
"We're seeing a lot more open spaces, a lot more amenity spaces," said Thompson.
Evernham said he sees more front-of-the-office kitchens or break rooms with nice finishing touches and amenities. To him it sends a message to employees, prospects and customers.
"You walk in and the break room is basically the reception area," he said.
Of course, the tenants and/or landlords have been to willing to spend money to modernize office space.
Niki Ward, a designer for Ware, said cost is usually the biggest barrier to employers to make bold moves with workplace designs
There isn't much new office space, especially of the speculative kind, in Phoenix. That has tenants looking at creative ways to build-out their existing offices or move into other existing space.
Even some popular finishes and colors are more based on making workers feel valued and invited. Ward and Thompson said grays combined with whites are favored in many new office build-outs. Blues are also popular.
That mirrors some color schemes seen on popular HGTV shows such as "Fixer Upper," "Love it or List it" and "Flip or Flop."
The popularity of home improvement shows and cable networks has translated into consumer and business tastes when they are renovating or moving into new space.
Designers are seeing fewer desert tones in Phoenix offices. Those have long been a staple of Arizona office designs.
Thompson said he sees a pullback from super vibrant colors seen some cutting-edge office designs. He and Ward are see more wood finishes in office renovations to try to offer some warmth.
The colors are still bright just warmer shades of purple or blue instead more bold.